Singer/Songwriter Coline Creuzot Talks New Single "You Tried It", Upcoming EP, And More

Hailing from the Lone Star state of Texas, born and raised in Houston, Coline Creuzot, a singer/songwriter has an astonishing voice. Coline fell in love with the arts at a young age and always knew she was destined for greatness. Coline is not only an incredible voice, but also a scholar. After the singer/songwriter turned boss woman completed her undergrad degree in Business Management at Hampton University, she decided to move back to Houston to pursue music full time. During this time and while experiencing the growing pains of life, detailed in many of her autobiographical songs, Coline was introduced to Happy Perez, a fellow Houstonian and producer who has worked with Miguel, Mariah Carey and Frank Ocean to name a few. They collaborated on a song called, 'Give and Take', that went on to become an immediate hit. 'Give and Take' climbed all the way to number 1 on the Houston Radio Charts. The success of the song granted Coline opportunities to open for some amazing artists such as Drake, Keyshia Cole, Monica, David Banner and TI. She later attracted a publishing deal with EMI (now Sony ATV).
​Coline continued to grow as an artist and writer expanding her portfolio. Named "an artist at the forefront" by Ebony Magazine, in 2016 Coline's single 'Truth Is' peaked at number 24 on Billboard's Urban A/C charts.
​Coline made the jump to Los Angeles to pursue her artistry full time. Known for her strong soulful pipes and lyrical storytelling, Coline pays homage to old-school R&B with a relevant swagger which she showcased in 2017 at the Essence Festival debuting on the 'For the Love of R&B' stage. Coline re released "Truth Is" with a feature from the diamond princess Trina in October 2019. Most recently Coline opened for Keyshia Cole, Tank, and K Michelle at the Arena Theater in Houston. On January 10th, Coline released her latest single titled "You Tried It", which is currently #27 on the Urban AC Billboard Charts. Coline's heavily anticipated EP to follow this summer.
Check out our interview with the beautiful Coline below!
How did your career in music begin?
I have always loved music and dance. My parents put in me in dance at a very early age and I fell in love with performing and being able to express myself through art (singing, writing, dancing, acting). I sang in a few girls groups growing up, gospel choir in school and loved writing songs. Music is something I've always had a passion for. After graduating from Hampton University, I moved back home to pursue music full time. I wrote a song called "Give and Take" that ended up being #1 on Houston radio and that's where it all began.
What inspires you to write?
I am inspired by life... things myself or people close to me have been through. When the music moves me, the words just flow.
Tell us about your single "You Tried It" and your forthcoming EP.
I was in a writing session with Drew Scott and we were working on songs to pitch to other artists. We created " You Tried It" from scratch and when we finished the song, I just couldn't stop listening to it, it felt special to me. A few weeks later, I called Drew and was like, " I want this one for myself..."
My upcoming EP has been a few years in the works. I am happy that the 1st single is " You Tried It" because I think its a great preview to the EP. It's about the phases of love and relationships.
You've opened for acts like Drake, K. Michelle, Keyshia Cole, T.I, Monica and more. How would you describe your performance style?
There are Moments with just me and the microphone singing a ballad and then moments with full on choreography. I like to keep it energetic, engaging and also have those intimate moments.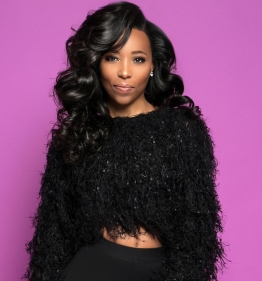 Can you tell us a memorable story about meeting/opening for one of them?
Many times being the opening act, I haven't had the opportunity to meet the headliner. I did get to meet Monica when I opened for her in Houston. She was so nice and so cool. Its amazing meeting someone you've listened to for years and they are everything you thought they'd be.
What's the music scene like in Texas?
I have been living in LA for 6 years now, but Houston will always be home. I made the jump to LA because I was traveling so much to do sessions that I was rarely home. There have been so many great opportunities in LA.
Do you think R&B is making a mainstream re-emergence? Why or why not?
Yes. I think that streaming and social media have given a lot of new artists a platform for their voices/music to be heard.
Who are some of the artists on your playlists right now?
Roddy Rich, K Michelle, Kehlani, Inayah, Doja Cat, Justin Beiber, Da Baby...
What's some advice you can give to other indie artists trying to make things shake on their own?
Be persistent, stay consistent and true to who you are.... and always bet on yourself.
IG: ColineCreuzot
Twitter: @ColineCreuzot