LOLA BROOKE SIGNS TO ARISTA RECORDS IN COLLABORATION WITH TEAM EIGHTY PRODUCTIONS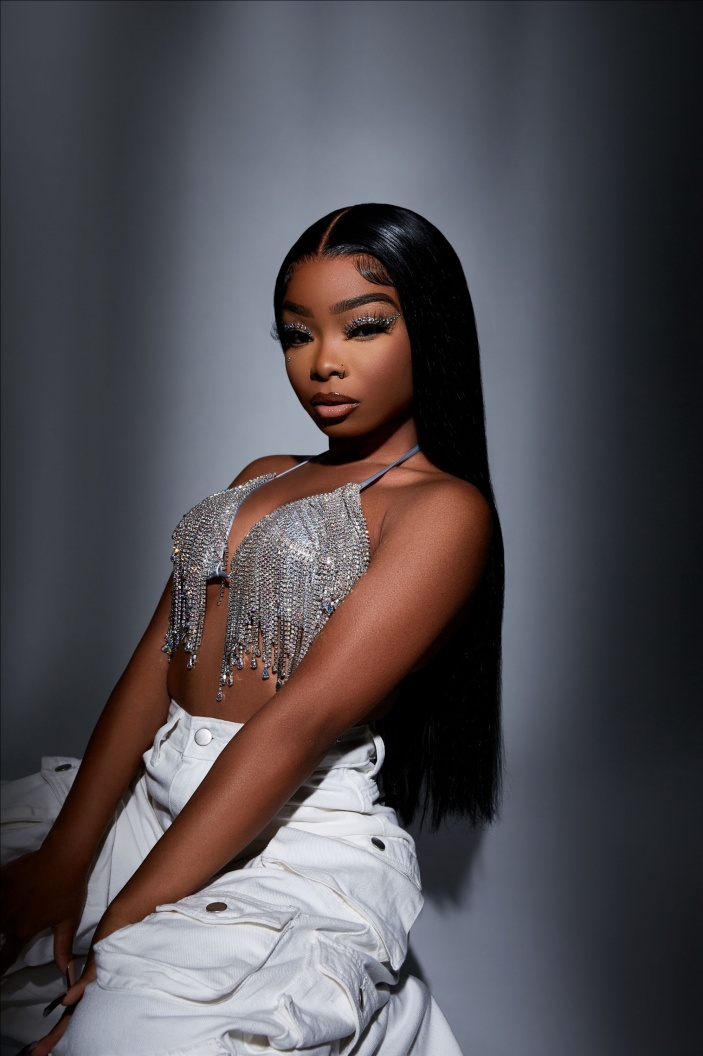 Capping off a breakout 2022, Brooklyn M.V.P. Lola Brooke officially announces her signing to Arista Records in collaboration with Team Eighty Productions today. She officially joins the label's dynamic and diverse roster as its latest trailblazer. Regarding the news, Arista Records President and C.E.O. David Massey comments, "Lola is the rare talent whose presence matches her message. Her music is larger-than-life, but her vision is just as powerful. We're excited to welcome her to the Arista Records family."
Arista VP/Co-Head of Urban Music, Kendell "Sav" Freeman adds, "From the moment I saw and heard Lola Brooke, I knew it was imperative that I sign her. She's an elite rapper and a born performer with an undeniable vision. Lola has an amazing work ethic, her music is phenomenal and her personality is unmatched. I'm excited for everyone to witness her path to greatness in 2023!"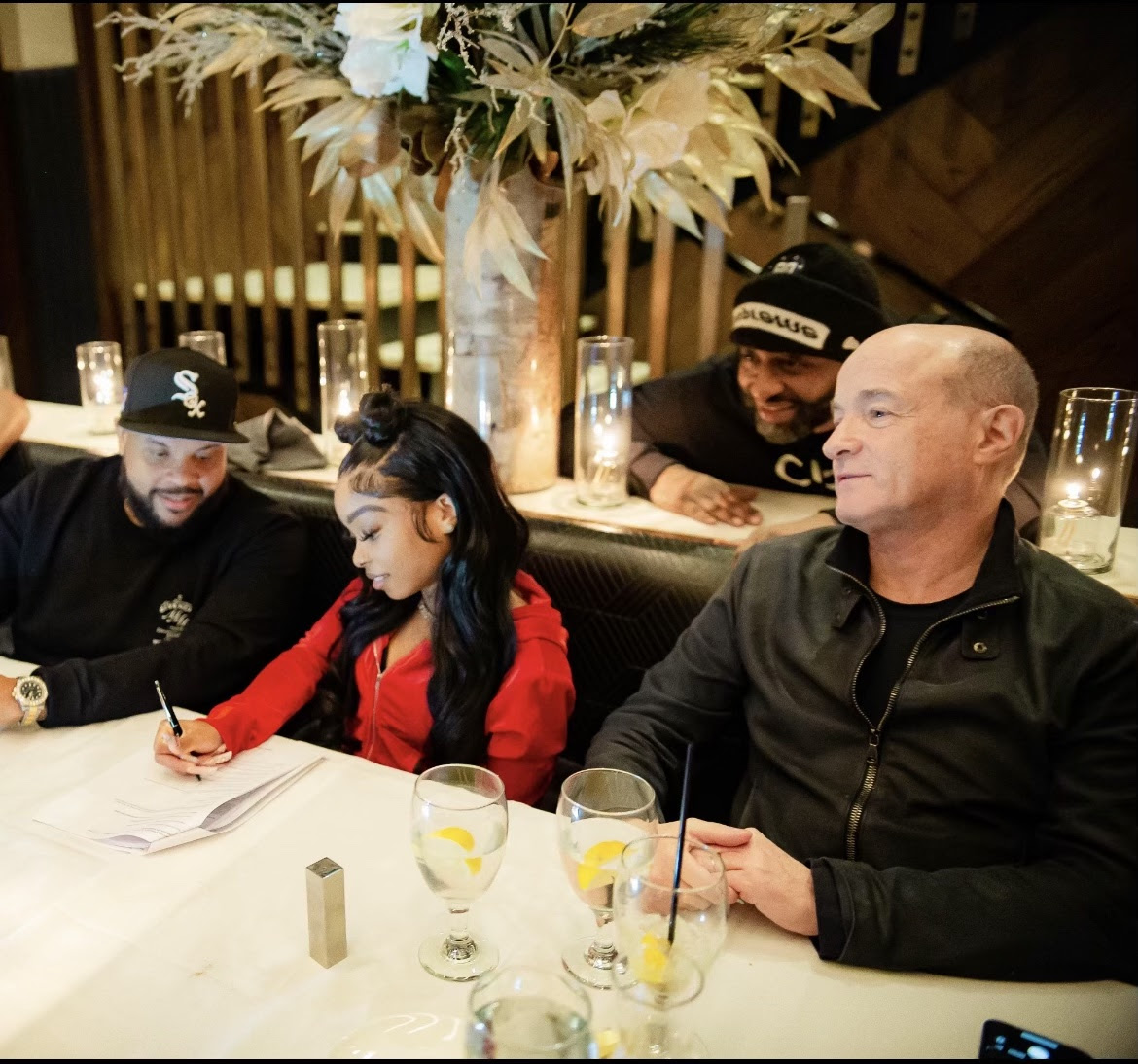 MAGE CREDIT: GABRIEL EUGENE
PICTURED FROM L-R (SAV, LOLA BROOKE, EUGENE "80" SIMS, DAVID MASSEY)

Founder of Team 80 Productions, Eugene "80" Sims shares, "From the beginning, Lola has stayed true to her artistic integrity and identity that, as the world is seeing now, is dominating the music culture in Rap and beyond. Since joining the Team 80 Productions family in 2016, Lola has embodied the core principles of our independent label that was established to continue the legacy of Hip Hop in its birthplace, New York City. Brick by brick—we aren't afraid of putting in the work and grinding it out to the path of artist development excellence. We mean business and now in the 50th year of Hip Hop, we're very excited to join forces with the Arista team to develop Lola Brooke for global success."
Shawna "Sha" Morgan, General Manager of Team 80 Productions, adds, "Lola's dedication to her craft and intention with every move she makes equips her for continued success and career milestones. Seeing her rise with Team 80 Productions in her corner every step of the way has been a treasure. When you have the right people in place and a clear vision, the road to seeing transformative results is inevitable. We are very excited about this new journey with Arista Records as Lola continues to make her mark as a powerhouse artist."
Deemed as a 'musician set to take over in 2023' via Vogue, 'artist you need to know before 2023' via Ebony Magazine, Hot 97's 'Who's Next: Class of 2022,' and one of the 'Best Female Rappers of 2022' via HipHopDX, Lola Brooke has established herself as a breakout talent and the next New York artist to watch. With over 50 million streams to date, Lola's most acclaimed hit, "Don't Play With It," stands as one of the most in-demand songs in today's current music landscape. The Recording Academy via GRAMMY.com, recently highlighted the smash single as a viral phenomenon that defined Rap music's dominance on the social media platform. To date, the track has garnered over 500k + TikTok video creations, peaked at #9 on TikTok Viral chart, and has garnered 100 + million views on the platform. The track and official music video have charted Top 50 on both the US Shazam and YouTube Music Video Charts with 12 + million YouTube views. "Don't Play With It" has recently earned placements on coveted playlists across major platforms, including Apple Music's "Rap Life," "High Maintenance" and Spotify's "Most Necessary" and "Feelin' Myself" while Lola has been crowned as a 2023 Artist to Watch by Apple Music.
All signs point to a massive new year for Lola. She just pulled up at Future's sold-out show at Barclays Center in her hometown of Brooklyn, NY, as well as a recent A Boogie wit da Hoodie show eliciting massive roars from the crowd as soon as she hit the stage.
Lola recently unleashed her latest lyrical salvo "Here I Come." Showcasing her slick, savage, and sharp flow, the track and official music video have earned her widespread acclaim. Right out of the gate, Pitchfork highlighted it as "The must-hear rap song of the day" and warned, "Her aura is intimidating; like a black widow, she shows that she'll seduce and devour to get to the top." REVOLT christened it "a bold new declaration of her presence in the music scene," and OkayPlayer touted it among the "Best Hip-Hop Videos to Drop Last Week" and noted, "Lola Brooke's 'Here I Come' is a swift-paced video that centers on her gritty and fiery rhymes."
However, it just paves the way for more to come. With Arista Records and Team Eighty Productions in her corner, Lola Brooke has her sights set on 2023 with plans for more music very soon.
The Next Face of New York has arrived.


LOLA BROOKE BIO
Few have been true to the roots of Brooklyn, New York while having the charisma and talent to transcend its identity. Yet, Lola Brooke, at full tilt, is making a stand-out case as one of Brooklyn's heavyweights for the city that might just boast the best legacy in all of Hip-Hop. She may only clock in at 4' 9", but her lyrical presence casts a skyscraper-sized shadow over the game. She delivers words through unpredictable cadences laced with quotable lyrics and flush with attitude. She embodies the unbridled energy of drill yet kicks street knowledge with confidence and leans into the future with genre-busting fire. She has no shortage of charisma, and it defines her sound just as much as her delivery does. As such, she asserts herself as New York's next hometown hero backed up by a growing body of work. It's all why she's tallied streams in the millions and is keenly tipped for a major breakthrough this year.
However, her story all starts in Brooklyn.
Since her mom raised her as a single parent, Lola spent a lot of time alone in their apartment. With her mother at work, she found comfort in music, especially hip-hop. A 50 Cent video served as her gateway into the genre as she went on to study the likes of Meek Mill "for the hunger" and Lil Wayne "for the punchlines." At the same time, she journaled daily in a diary throughout elementary school. Her poetry eventually turned into raps recorded on her cousin's computer. She quietly wrote and cut tracks of her own, battling loneliness and isolation. However, rap gave her confidence and projected her voice. "I felt small, but I was raised to feel bigger," she notes. "It's why I'm so loud and demanding now, because I want to be heard."
The culture heard her loud and clear too. In 2016, she buzzed out of Brooklyn by spitting with relentless street energy on a series of D.I.Y. freestyles. Speaking directly to her hometown and channeling its spirit, "Brooklyn Freestyle" exploded, and it caught the city's attention. Balancing a life working full-time at a community shelter with a growing interest in pursuing music, Lola caught the attention of fellow Brooklyn rapper, now Team 80 label mate, Bleezy. Finding a natural connection to Team 80 Productions Eugene Sims, Founder of Team Eighty Productions, later signed her after she expressed a commitment to pursue music full-time.
With Team Eighty Productions in her corner, she projected her voice far beyond the Borough having already earned the respect of heavy-hitters such as Meek Mill, Foxy Brown, Jadakiss, and Snoop Dogg in addition to tastemakers a la Pitchfork, Lyrical Lemonade, Flaunt, Revolt, and XXL who named her one of "10 Drill Rappers to Listen to Right Now."
Among many highlights, "Don't Play With It" [feat. Billy B] rides a Midwest beat towards an authoritative hook. She tears through the production with a gruff cadence right from the gut punctuated as she warns, "Bitch, I just begun." Lola dips into another vibe altogether on 2022's "On My Mind." The airy production underscores her emotionally charged intonation. Then, there's "Gator Season." She bares her ]teeth yet again with razor-sharp precision, pummeling force, and a seismic snap.
Now, Lola continues Brooklyn's legacy on her own terms, sealing her spot among the Borough's finest.
"I'm going to talk about real shit," she leaves off. "I'm going to talk about things we all fantasize about having. I'm going to talk about vulnerable moments. I'm going to talk about it all. I'm speaking to you."
Follow Lola:
Tik Tok