K CAMP CELEBRATES RIAA PLATINUM AND GOLD CERTIFICATIONS FOR MULTIPLE HIT SINGLES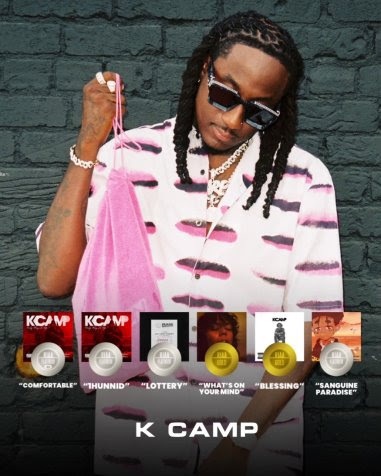 Following his critically acclaimed new project, Vibe Forever, Atlanta mainstay K Camp is celebrating multiple Gold and Platinum Recording Industry Association of America (RIAA) certifications for his hit singles released over the past few years. As Vibe Forever introduces new fans to his electrifying bars, his previous tracks—including "Comfortable," "1Hunnid," "Lottery," "Blessing," and "What's On Your Mind"—continue to ascend to new heights. K Camp's new project, Vibe Forever, is now available HERE.
Today, K Camp has hit several different milestones in the growing success of his songs. "Comfortable," the rapper's 2014 smash, goes 2x Platinum, while the Fetty Wap-assisted "1Hunnid" achieves Platinum status. "Lottery," which featured on 2020's Kiss 5, and Camp's "Do It," which is sampled on Lil Uzi Vert's "Sanguine Paradise" also achieves Platinum certification. "Blessing" from 2014's In Due Time and the Jacquees-assisted "What's On Your Mind" both have also gone Gold.

And though he's already proven he's capable of stunning successes like these, K Camp is never one to let off the gas. In July, he released Vibe Forever which was packed with tracks that are among his most engaging. While singles like "Woozie" and "Holy Spirit" underline K Camp's hitmaking credentials, deep cuts like "Last Lap," "Blow Da Budget," and "Bullseye" showcase other sides of his artistry—further establishing him as a musician with the range to try out whatever sound or style he feels called to on a given day. Other tracks of note include "Don't Change," a retro-leaning collaboration with Ne-Yo, the irresistibly slick "If These Walls Could Talk," and "Without Risk" featuring fellow Atlanta rapper Doe Boy.
Vibe Forever is K CAMP's first body of work since 2021's FLOAT. That album followed his star-studded K.I.S.S. 5 mixtape, which featured collaborations with Ari Lennox, 6LACK, and Wale. Both of those albums were critically and commercially successful, a feat Vibe Forever has already echoed. The project is a snapshot of an artist at the peak of his considerable powers. And his new Gold and Platinum certifications prove what everyone listening already knew: K Camp's discography stands the test of time.
CONNECT WITH K CAMP: