Is Beyonce and Jay Z Planning a Summer Joint Tour?

The Beyhive is alert, and the fever pitch is high: were plans leaked for a joint tour from Beyonce and Jay Z rumored to happen this summer?
Yesterday (Mar. 5th), Bey fans noticed a post on her Facebook page and a Ticketmaster page that listed a July 30th date for an "On the Run 2" tour at Philadelphia's Lincoln Financial Field.
The post was up for merely moments before being taken down, but of course, fans managed to capture a screenshot on their phone.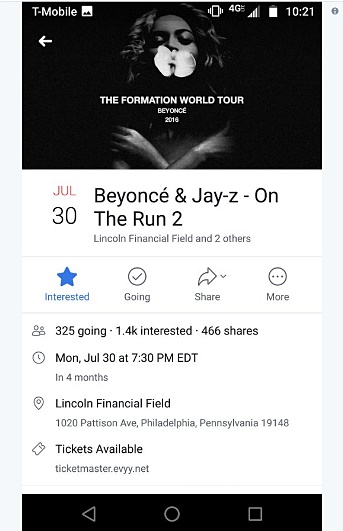 Even though an official announcement hasn't been made from neither from Bey or Jay's camps, of course, the panadmonium hit social media like a wave.
If true, the "On The Run 2" tour follows the couple's last joint tour, 2014's stadium trek "On The Run." They recently released a video for their song "Family Feud" from Jay-Z's Grammy-nominated "4:44" album.
Talk of a new joint tour from the Carters is also furthering specualtion the power duo may be planning the release of a joint album.