Get To Know D.C. Collective DuPont Brass, Group Drops Soulful Single "Funk You" ft. Jake Vicious (Listen)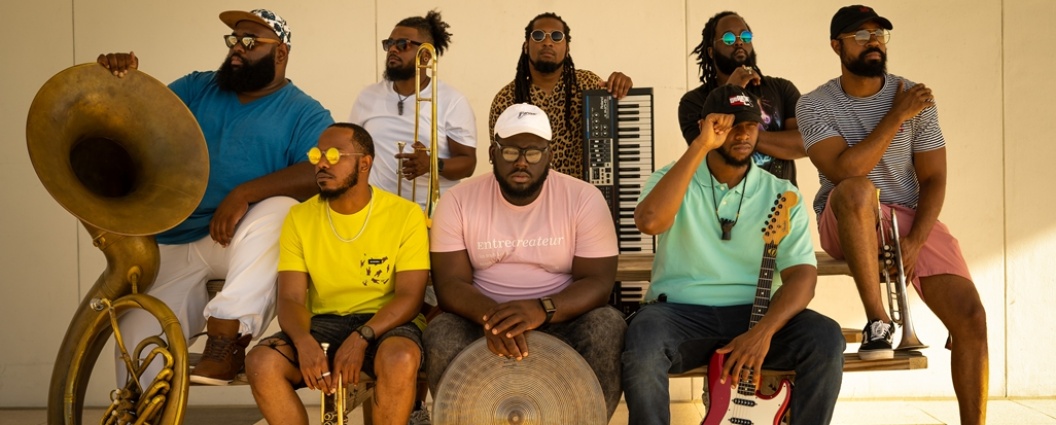 DuPont Brass is a unique, soulful, brass ensemble hailing from the D.C. Metropolitan Area. Originally composed of five music majors from Howard University trying to raise money for tuition during the Christmas season, they have now grown to a 9-piece ensemble consisting of brass, a rhythm section, and vocalists. Gaining popularity from playing at local Metro stations, DuPont Brass started out professionally playing for weddings, banquets, and other private events in the surrounding area. Thanks to the foundation laid in their earlier years, DuPont Brass has had the opportunity to perform in conjunction with the D.C. Jazz Festival, The Washington Performing Arts Society, and on the prestigious Kennedy Center Millennium Stage. Consistently touching the hearts of the community with their heartwarming testimony, DuPont Brass has been featured on WPFW's "Live at Five" three times and featured in the Washington Post Newspaper five times. Through their training in both classical and contemporary styles, the young group has developed a sound that mixes varied genres of music, including jazz, hip-hop, and R&B.
At the top of 2018, they released Eclectic Soul, a full length project that is a testament to that sound. Their latest EP, Halftime, is an ode to their marching band upbringing. Halftime stays true to the DuPont Brass style of taking something old and making something totally new.
Their new single "Funk You" is a deliciously funky tune full of lush horns, soaring vocals, and infectious funk. Listen below and check out our short Q&A with the 9-piece ensemble.
Please introduce everyone and the instrument they play in the band.
1) Isaac "Deacon Izzy" Bell - Vocals
2) Anthony "Aye Ant" Daniel - Trumpet/Music Director
3) Jared "MK Zulu" Bailey - Trumpet/Vocals
4) Matt "Fuzzy da Plug" - Trombone
5) Jarvis "Jarvy Dent" - Trombone
6) Brent "Bass Heavy Slim" - Sousaphone/Tuba/Manager
7) Peter "Manny Phantom" - Aux Keyboards
8) Joe "Jeauxsmeaux" Wilson - Keyboard
9) DeAnte "Turn Up DeAnte" Haggerty-Willis
10) Stan "Stan da Man" Banks - Drumset/Guitar
What's you guys' creation process like?
Anthony usually creates a backing track, then he sends it to Isaac and Jared who create the hooks and verses for the song. After that Anthony will go back and write individual parts for the entire group. We'll rehearse it, then everyone states their suggestions if there are any. Anthony goes back to the board if he needs to and revises the song based upon the groups comments. From their Brent takes over pushes the content to the public.
As a big collective, how do you all resolve disagreements when it comes to creative and business matters?
Simply put diplomatically! Brent, Anthony, and Jared steer the musical ship but everyone has a say in the musical process so we vote on everything.

What are your live performances like?
Our performances are high energy with an eclectic list of songs and genres ranging from Hip Hop, R&B, Jazz, and Soul. You'll never be disappointed at a DuPont show.
Tell us about the creation/inspiration of the single "Funk You."
One of our good friends Jake Jake Vicious is a studio engineer, and he hit us up about doing a compilation album with the Studio/Label that he works with. He sent us the backing track and we put our magic on it with the horns and vocals, and the rest is history.
What's next for DuPont Brass?
Well, we have a huge show at U St. Music Hall in Washington D.C. on Aug. 30th, 2019, 3 new singles coming out before the end of the year, and a new album in the beginning of 2020.
Follow DuPont Brass:
Web: www.dupontbrass.com
IG: dupontbrass
FB: dupontbrass
Twitter: @DuPontBrass
Radio Airplay Experts
are specialists assisting major artist and independent artist in radio airplay and the radio spins that are needed to create awareness. We focus on assisting artist looking for Pop Radio airplay, Hip Hop Radio Airplay, Gospel Radio Airplay, Rap Radio Airplay, Jazz Radio Airplay, Rock Radio Airplay, R&B Radio airplay and Urban Radio play. We pride ourselves in providing the most cost effective radio promotions packages for artist looking for National digital radio airplay and FM radio airplay.