Gary Noble Grammy Nominated Engineer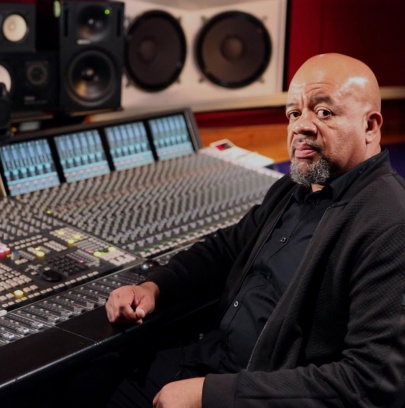 When award-winning artists like Alina Baraz, Faith Evans, Jazmine Sullivan, Estelle, Amy Winehouse, Jordin Sparks, Nas, Chronnix and MackWilds needed their music mixed they turned to the Mix Engineer/Producer with comparable credentials. He was Salaam Remi's main mix engineer for over two decades.
Gary Noble is that multiple Grammy awarded and nominated technician with the ear that inspires magic. He is known for his knack of " bringing the artists' & producers' visions to life."
His ear is attuned to many genres of sound and music as reflected in his expansive catalog of award winning songs. His philosophy on life..."MUSIC IS LIFE. MIXING IS HOW I MEDITATE ON LIFE," inspires him and motivates the focus he shares within each body of work.
Major record labels like Sony Music, Atlantic Records and Universal Music Group recognize this and summon Mr. Noble regularly to give the music of artists like Jessie J and Abd Al Malik (which won 2 French Grammys} enhancements that can only be described as hypnotic. Movie studios know him as well, turning to him to mix songs for the soundtrack of blockbusters like "Amy" "Sex in the City: The Movie" and "After The Sunset." His work is also reflected in the commercial world. An example of his work is the Crystal Light campaign featuring Estelle's smash "Star".

Noble recognized his musical gift at the tender age of 5. He would sit and listen to his parents' record collections for hours on end. Living in New York, he was exposed to a virtual melting pot of different cultures and styles of music. By age fifteen he was a mobile DJ, which helped to fuel his passion for creating and mixing music even more. That experience would be the jumping off point for him to ascend toward the ultimate career of Mixing Engineer. He studied at the Institute of Audio Research and worked at various studios in New York to hone his craft. He eventually met Salaam Remi (he produced Jazmine Sullivan, Amy Winehouse, Nas, and The Fugees) who chose him to be his main engineer. The rest is history.
Today Noble's talents are known by artists worldwide. Most recently, his skills helped British songstress Amy Winehouse's "Back To Black" snag a dominating 5 Grammys in 2008. He mixed the Grammy nominated Nas single "Cherry Wine" featuring Amy Winehouse and produced by Salaam Remi. He also worked on Chronixx critically acclaimed Grammy nominated album "Chronology".

Last year He mixed Tamia's single "Leave It Smoking" which went #1 on the UK and US R&B charts. He recently mixed an EP for a new artist on Atlantic named Raiche. Here's the link to her 1st single that was used in a commercial for Turbo Tax and her latest single "Pick A Side" is currently Top 10 on the R&B charts.
He also mixed the debut EP for an amazing UMG artist from Toronto named Emanuel whose song "Need You" used by Idris Elba for his COVID social media campaign last year. Gary Noble's work has earned the music industry's respect and highest honors. Artists he has worked with have earned all of the top accolades including American Music Awards, Billboard Music Awards, the MOBO (U.K.) Awards and The Grammys and with each recognition, the artists themselves credit Gary with making it all possible.
Here's a link to some of his discography:
https://www.allmusic.com/artist/gary-noble-mn0001211562/credits

Interview he did for ModernMixing.com:
https://modernmixing.com/blog/2014/05/10/psychology-mix-engineer-gary-noble/

Interview that was done for Bobby Owsinski's Music Industry podcast:
http://music3point0.com/2017/07/04/episode-168-gary-noble/

He has also spoken at various seminars on Audio Engineering for The Music Expo, IMSTA and SAE Institute.

Follow him on Social Media:
https://www.linkedin.com/in/gmajor2