BREAKOUT RAPPER ROB49 TEAMS WITH DABABY FOR DEFIANT NEW SINGLE "HATE IT OR LOVE IT"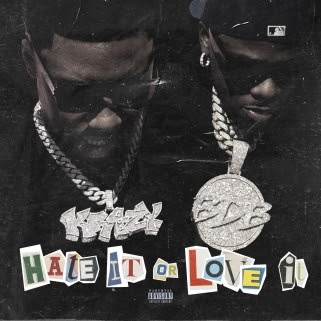 Today, emerging New Orleans star Rob49 links up with multi-platinum recording artist DaBaby for the defiant new single "Hate It Or Love It." The latest release from Rob's forthcoming 4God II EP, "Hate It Or Love It" is full of the sort of relentless energy that Rob49 has become known for, a mission statement that sounds impossible to deny. The coinciding video is one of the first directorial debuts by Da Baby as well. Watch here. "Hate It Or Love It" is available now at all digital retailers.
Though "Hate It Or Love It" marks their first collaboration, Rob and DaBaby make for a natural pair, each MC a master of navigating beats in a way that maintains his uniquely muscular presence. Over a hypnotic, piano-led instrumental, Rob and his Charlotte-bred partner trade verses about staying steadfast in the face of adversity, backstabbers in their own circles, and enemies of all stripes.
"Hate It Or Love It" arrives in the wake of the Peezy-assisted "Let Me Know," which was released earlier this month, "Ball N Chill," and "4God II," all of which are set to appear on Rob's forthcoming EP. Those tracks were preceded by the G Herbo-assisted "Add It Up," and "Product of the Trenches," two pummeling singles that emanate confidence and danger. Additionally, Rob recently toured with Nardo Wick, expanding his fanbase with each stop. This past fall, he also performed in the halftime show at a Pelicans game in his native New Orleans.
In just a short time, Rob has been embraced by some of hip-hop's heavy hitters: 2022 album Welcome to Vulture Island features collaborations with Icewear Vezzo, Babyface Ray, Doe Boy, Landstrip Chip, and Lil Baby—to say nothing of the project being introduced by legendary Cash Money Records founder Birdman. His single "Vulture Island 2" with Lil Baby amassed more than 20 million views on YouTube alone.
With "Hate It Or Love It," Rob makes it clear that he's on the precipice of something even bigger.
Listen to "Hate It or Love It"
Connect with Rob49:
CLICK HERE
To Listen on Spotify
Radio Airplay Experts
are specialists assisting major artist and independent artist in radio airplay and the radio spins that are needed to create awareness. We focus on assisting artist looking for Pop Radio airplay, Hip Hop Radio Airplay, Gospel Radio Airplay, Rap Radio Airplay, Jazz Radio Airplay, Rock Radio Airplay, R&B Radio airplay and Urban Radio play. We pride ourselves in providing the most cost effective radio promotions packages for artist looking for National digital radio airplay and FM radio airplay.