'A LANGUAGE FOREVER' DIGITAL ALBUM OUT 14TH APRIL VIA MONOTREME RECORDS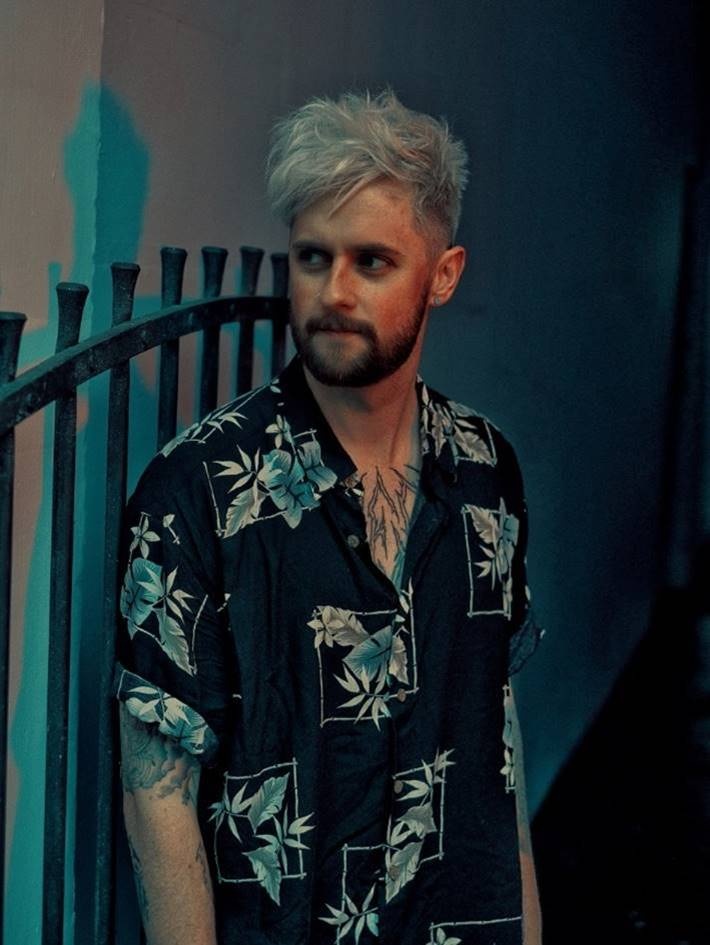 Michael Hamilton is a composer who is just as capable of tugging on your heart strings as bursting your ear drums. In his work you'll hear everything from symphony orchestras, to retro synthesizers, to the 8-string guitars that linger from his days as a death metal guitarist. In addition to his work as a solo artist, Michael is also known for his work on video game and film soundtracks and, alongside collaborator, Ross Cairns, is also a prolific techno producer whose tracks have been released by record labels and heard on dancefloors from around the globe.
When he's not composing, Michael works as a session musician, performing with various internationally renowned artists, and can be found onstage as the bassist of Progressive Music Award winning post-rock band, Midas Fall. A Language Forever is a collection of electronic, beats-driven tracks inspired by UK Bass and Electronica producers such as Burial, Jamie XX, Asa and fellow Monotreme labelmate, Sorrow. As with each of his releases, the aim was to break new ground while borrowing from and building upon his previous work.
A Language Forever takes many of the characteristics of his soundtrack work, as well as his work with Midas Fall, and relocates it to more dancey, experimental realms where Dubstep, Glitch and IDM collide. These compositions marry fractured breakbeat samples with emotive, cinematic chord progressions; crunchy drum machine loops with intimate piano melodies; deep, gritty reese basses with mournful string passages - all atop a textured backdrop of vinyl crackle, foley recordings and pitch-shifted vocals. It's the kind of album that can provide an apt soundtrack to both the climax of a Saturday night, and the chilled out ambience of a Sunday morning.
Remixes are provided by friends and fellow Glasgow-based producers farfromnorth, Ross Somerville, and Innblásin, as well as frequent collaborator and the album's mixing/mastering engineer, Ross Cairns. In keeping with his long-standing DIY ethic, like each of Michael's previous releases, A Language Forever was written and recorded in his living room in Glasgow, Scotland, with Michael playing/programming every instrument himself.
Glimmer, the 3rd single from, A Language Forever, swoops and soars on gossamer wings of violin and synths, underpinned by airy beats. Says Michael, "I call this the 'Disney Finale'.. The album can be quite intense and dark at points, but I wanted to close it with a moment of euphoria and warmth. I wanted to leave listeners feeling positive at the end of their journey, and this is the album's lightest, most whimsical point: a glimmer of light at the end of the album's proverbial, kaleidoscopic tunnel of emotions."
Credits:
Michael Hamilton – electronics, piano, guitar, bass
Recorded by Michael Hamilton, mixed and mastered by Ross Cairns
Connect with Michael Hamilton
CLICK HERE
To Listen on Spotify
Radio Airplay Experts
are specialists assisting major artist and independent artist in radio airplay and the radio spins that are needed to create awareness. We focus on assisting artist looking for Pop Radio airplay, Hip Hop Radio Airplay, Gospel Radio Airplay, Rap Radio Airplay, Jazz Radio Airplay, Rock Radio Airplay, R&B Radio airplay and Urban Radio play. We pride ourselves in providing the most cost effective radio promotions packages for artist looking for National digital radio airplay and FM radio airplay.